Boston Kitesurfing Club

Membership Basics
BKC organizes trips originating in the Boston area to kite-surfing spots such as Cape Cod, Nantucket, Martha's Vineyard, OuterBanks, NC, SC, ME, NH, etc.

- Experienced Private Pilot Included.
- Most Gear Provided.
- Minimum 1hr Instruction per Trip.
- Mature Professionals in 30's.
- Informal Lessons provided (non-certified)
- Weekend Trips, single day, or Sat-Sunday overnight.
- Mid-Week Escapes from Work when wind is blowing.
- Airplane Transport means maximum time/flexibility in wind
- All ages & skill levels welcome - learn to FLY!
- Departs from 128-belt Boston.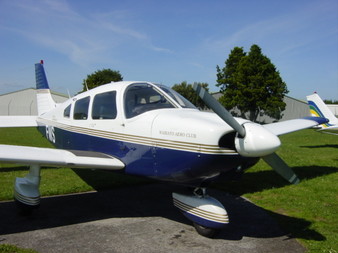 Flight & Trip Information
Airplane is a Piper Archer 2, which depending on the weight of
passengers will carry 3-4 people and 80 lbs of gear total. Range &
Destination is dependent on the wind, of course. A full Quiver of
kites are brought on all trips (2M, 6M, 8M, 12M, 15M, 17M).
Read more about the sport here: wikipedia.org/wiki/Kitesurf
Beginners are encouraged to invest signifant time reading on the
web and watching training videos for a less frustrating learning
curve on the Beach. Our mailing list will alert you to wind
conditions and upcoming trips.

Most trips include some R&R time in the destination beach spot.
Kitesurf for the day and relax in the evening over a few beers
before flying back to Boston (usually Sunday night). Space is very
limited at 2-3 people per weekend, so first-come-first-serve. Non
-surfing spouces do not need to pay dues, but do need to pay seat
costs.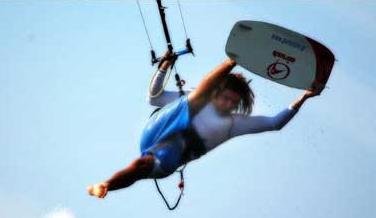 Costs & Reservations
$200/pp Yearly Membership Dues if you own Gear
$600/pp Yearly Membership Dues w/o Gear
$200/pp is Typical 1-day Trip Cost (variable distance/gas)

Dues are refunded if you do not make a trip. Your pilot & instructor appreciates tips.

Call or email for more information.

(617) 500-3458 Mobile
M-S, 9am-9pm, EST
info@bostonkitesurfingclub.com
www.bostonkitesurfingclub.com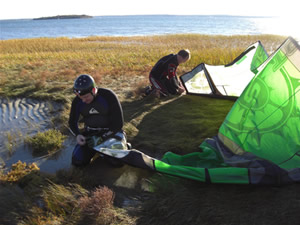 About Us
BKC staff are passionate Kiteboarders and Private Pilots committed to providing you a memorable experience. Our pilot has hundreds of flying hours and is a certified flying instructor. Your kiting instructors have countless hours invested into the sport. Please see the calendar on the left for information on our upcoming trips.



BKC Profiled in the Weekly Dig Newspaper
70+ kiters in the Boston area, usually going to spots near Cape Cod. After you confirm subsciption to the email group, simply post an email to the group, to: bostonkiteboarding@yahoogroups.com Someone will likely answer your question. Several members are professional instructors and offer paid lessons, most like me are weekend warriors. We usually post wind locations and car pooling opportunities to the group:

http://www.bostonkitesurfingclub.com
http://groups.yahoo.com/group/bostonkiteboarding/
http://www.weeklydig.com/[catpath]/200905/offshore-adventure